For the 11th time, Lower Gwynedd Township honored America's veterans, on Veterans Day, Saturday, November 11th, at an 11:00 a.m. ceremony, held at the Township's Veterans Memorial Park, in Spring House.  Noting the significance of the date, time and ceremony anniversary in his remarks opening the ceremony, ceremony keynote speaker, Retired Navy Rear Admiral Steven Yusem, explained that the Veterans Day holiday commemorates the end of World War 1 hostilities, 105 years ago, at the 11th hour, of the 11th day of the 11th month of 1918. 
The ceremony included formal remarks by Paul Bradshaw, Esq. (R - Army); Thomas Campbell (R - Air Force); Ronald Ricks (R - Army); and Darren Devoue (R - Army); and welcoming remarks by Stephen Yusem, Esq. (R - Navy) and Dick Target (R - Marines).  During the ceremony, musical numbers, including The Star-Spangled Banner, This is My Country, America the Beautiful and You're a Grand Old Flag, were played by the Wissahickon Middle School Marching Band; and members of the Bethlehem Baptist Church Men's Choir sang This Land is Your Land and My Country Tis of Thee.  Veterans from Ambler's Daniel W. Dowling American Legion Post #769 played revelry and taps on the trumpet, presented and retired the "colors" (aka, the U.S. flag) along with an MIA/POW banner, and the Post's Honor Guard thrilled the more than 111 attendees with a rifle fire salute.  For the first time, members of the local chapter of Warriors' Watch Riders joined in the ceremony.
At the conclusion of the ceremony, Arpeggio BYOB, Fireside Bar & Grille and Penna's Italian Market, Il Giardino Italian Cuisine, Spring House Tavern, Vic Sushi and WaWa provided complimentary delicious "Taste of Lower Gwynedd" refreshments. The restaurants were arrayed around the nearby seven-foot high metal "Wreath of Honor" sculpture, at which a wreath was laid just prior to the ceremony. The dramatic sculpture (designed by an Ambler resident) was dedicated in 2006 and honors all U.S. military branches.
The full press release is linked below. 
Contact:  Bill Wanger, Chairman, Lower Gwynedd Veterans Day Ceremony Committee, at 215-694-5217, or wwangeresq@gmail.com.
Press Release-Veterans Day Ceremony 2023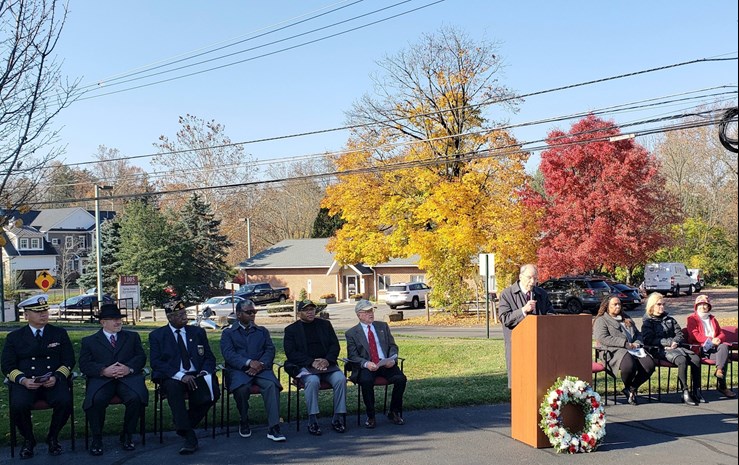 Gallery of Previous Veterans Day Ceremonies
2014
2023