Republic Services Informational Flyer for Township Residents
New Waste Hauler Contract Approved
The Lower Gwynedd Township Board of Supervisors awarded the bid for Trash Collection Services to Republic Services at their meeting on September 22, 2020. The new contract commenced on November 1st, 2020 and expires on October 31, 2023. This contract does have a two-year extension clause available by mutual agreement between Lower Gwynedd Township and Republic Services. Should that option be utilized, the contract would be extended until October 31st, 2025.
Account information can only be accessed by Republic Services. You must call Republic Services directly for account information at 215-723-0400 or to establish an account.
The collection rate is $84.57 per quarter for year one, $87.54 per quarter for year two, and $90.60 per quarter for year three. Collection days will remain Mondays and Thursdays. Recycling will be once per week. Place trash at the curb no later than 6:00 AM on the day of collection, but no earlier than 7:00 PM on the prior evening; Trash collection and Recycling Collection will continue to take place on Mondays and Thursdays. If you receive recycling collection on Mondays, you will continue to receive recycling collection on Mondays. If you receive recycling collection on Thursdays, you will continue to receive recycling collection on Thursdays. 
Any resident with a bulk item shall contact Republic Services for coordination and disposal prior to placing by the curbside. One bulk item per month is permissible at no extra charge to the contracted household; $30.00 charge for each additional item.
Leaf and Yard Waste will be collected on eight (8) specific dates throughout the year (two (2) dates in the Spring; six (6) dates in the Fall). All waste must be placed in biodegradable bags and limited to eight (8) bags per pickup. Two Christmas tree collections will also be provided following the holidays on two dates to be agreed upon by the Township and hauler.
Recycling is all single stream- no sorting is required.
Republic Services Holidays: New Year's Day, Memorial Day, Independence Day (4th of July), Labor Day, Thanksgiving Day, and Christmas Day.
Republic Services Customer Service Phone #: 215-723-0400 and the website is www.republicservices.com
*Please note, these services included in the contract are unchanged from previous contracts.
The 2021 Yard Waste Pick-Up Schedule
SPRING COLLECTION
Saturday, April 10, 2021
Saturday, May 8, 2021
ALL LEAVES SHALL BE PLACED IN BIODEGRADABLE BAGS AND PLACED CURBSIDE BY 6:00 AM ON THE DATE OF THE COLLECTION BUT NO EARLIER THAN 7:00 PM THE DAY PRIOR TO THE COLLECTION DATE.
Recycling News
New Retrievr Information
Retrievr, the pickup service for electronics and clothing recycling that serves Montgomery County, has added to the list of materials that it will accept for a fee.  Microwave ovens, dehumidifiers, air conditioners, and mini refrigerators can be picked up for a fee, in addition to TVs and monitors.  The fee schedule is listed below and is on the Retrievr website at http://retrievr.com/montcopa . 
Retrievr has also added a flat $10 doorstep convenience fee for clothing and any small electronics. If any of the below items are included with the pickup, the doorstep convenience fee is waived. Fees are charged for the following items:
 $10 for each microwave
$35 for each TV under 150 lbs. and monitors that use a Cathode Ray Tube (CRT)
$100 for each TV 150 lbs. or more, such as those with wooden cabinets or rear-projection TVs
$50 for each dehumidifier, window air-conditioner and mini refrigerator under 50 lbs.
Again, if you are paying to have an item on the list above picked up, there will NOT be a $10 doorstep fee added. 
Retriever Buyback Program is back by popular demand!
Now you can get paid for your unwanted clothes and smartphones when you recycle with Retrievr. It's easy to get started: visit Retrievr.com and discover what your items are worth.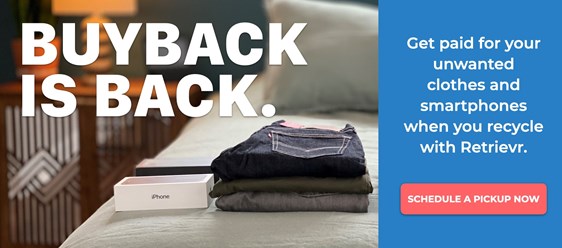 Not All Types of Recycling Were Created Equal (But They Are All Important)
Many people wonder what happens to the materials that they place in their recycling bin. There are three main types of recycling that post-consumer materials can undergo. Each has specific advantages and end products. 
Primary recycling, often referred to as "closed loop recycling", is when recyclable materials are mechanically processed to create a product that serves a similar function. For example, a post-consumer plastic bottle can be mechanically processed to create a new plastic bottle. This bottle has similar strength and performance characteristics as the original bottle. Some materials, such as aluminum and glass, can be recycled in this closed loop system an infinite amount of times. No matter how many times these materials are recycled; their material quality will not decrease. A glass bottle made with glass that has been recycled 20 times will perform just as well as a bottle made of new glass.
The quality of other materials, such as paper and plastic, decreases each time they are recycled. The strength of paper comes from the tangling of pulp fibers. Each time a paper product is recycled, these fibers become shorter, until they become so short they are unable to be used to create new paper. The EPA estimates that paper can be recycled a maximum of five to seven times. Plastic recycling fares worse. The polymers that make up plastics also are shortened each time the material is recycled, and it is estimated that plastic can only be recycled one to two times before the quality of the material is diminished.
This is where secondary recycling comes in. Secondary recycling is still a mechanical recycling process, but it uses recycled materials to make a new product. This new product typically does not have the same physical demands as the original product and is often less recyclable. Despite the decrease in recyclability, this is an important process to minimize the use of virgin resources and to help divert less recyclable materials such as plastic from landfills. An example of secondary recycling is plastic bottles being turned into polyester.
The third type of recycling is tertiary recycling. In tertiary recycling, recycled materials are used as a feedstock in a process to create chemicals and fuels. These chemicals can then be used to create new materials. This type of recycling typically uses the most energy, costs more, and can have the same negative environmental impacts of producing brand new materials. The benefits are reducing waste that is landfilled and minimizing new resources that are used to create chemicals. An example of tertiary recycling is the glycolysis of PET plastic into diols and dimethyl terephthalate to make virgin PET plastic.
Municipal and state regulations require that residents, commercial establishments and non-residential establishments recycle all recyclable materials. Commonly recycled materials include paper, plastic, glass and metal. You should check with your hauler for a complete list of acceptable recyclable materials.
RECYCLING IS REQUIRED
Municipal and state regulations require that residents, commercial establishments and non-residential establishments recycle all recyclable materials.  Commonly recycled materials include:
Paper – newspaper, office/copy paper, glossy paper, color paper, cardboard, junk mail, phone books, cereal/cracker boxes
Plastic – bottles and jugs No. 1-7
Glass – clear, green and brown containers
Metal – aluminum, steel, tin, and bimetal cans and containers
Lower Gwynedd Township does offer battery recycling. For more information on this program please visit the EAC page of this website.

ARE THINGS REALLY BEING RECYCLED?
This question often comes up. People are concerned that not all of the materials they put in their recycle bin are recycled. Their concern is that some end up in landfills. This leads some to minimize their recycling efforts. According to several major waste management firms in Montgomery County, all of the acceptable recycled materials listed above are being recycled.
You should continue to recycle all of the items listed above.
THINGS YOU SHOULD NOT PUT INTO YOUR RECYCLE BIN
Here is a list of things that cannot be recycled and should not be put into your recycle bin:
Foam containers and cups, even if they have a recycle symbol on them,
Cups coated with wax or plastic such as soda cups,
Plastic bags such as grocery store bags (You can often take these bags back to the grocery store.),
Flexible packaging such as chip bags or juice pouches,
Plastic wrap,
Container caps,
Diapers, yes, some people throw soiled diapers into their recycle bins.
Avoid Contamination of Recycling Materials with Food or Liquids
Materials contaminated with food or liquid cannot be recycled. Here is what you should do:
Check that the material is recyclable. Look for the recycle symbol on items. 
Rinse jars, bottles, and cans that have visible residue in them. A quick rinse is usually adequate.
Throw away heavily soiled items.
CONTAMINATED RECYCLE MATERIALS
Contaminated recycling materials cannot be recycled and usually end of going to a landfill. Here is a list of contaminants that make recycle material non-recyclable:
Plastic Bags: Do not place your recycle materials in a plastic bag. Plastic bags cannot be recycled. The recycler will either waste time removing the plastic bag or worst, discard the bag and its contents and send it to a landfill.
Food Wastes: Uncleaned containers with leftover food wastes cannot be recycled. Containers contaminated with food wastes will be sent to a landfill. You need to wash food containers and remove all of the food before placing the containers into your recycle bin.
Bright Colored Paper: In general, bright colored paper should not be recycled.
Frozen Food Containers: The coating on frozen food containers make them non-recyclable.
Shredded Paper: Shredded paper should not be placed into your recycle bin.
Caps and Tops to Bottles, Jars and Containers: Caps and tops are not recyclable; throw these in the trash, not the recycle bin.
We all want to maximize our recycling efforts, but we need to recycle the correct materials in the correct manner. Otherwise, we mess up the recycling facility and much of our "recycled waste" ends up in a landfill. You should check with your hauler if you have any questions about what materials can be recycled.
RECYCLING
Single-stream recycling (SSR) streamlines and simplifies the process of collecting and sorting recyclable materials, increasing rates by up to 50 percent. In a single-stream recycling system, residents and commercial customers place recyclables in a recycling cart and waste in a waste cart for pickup, and no longer need to separate these materials in their homes or workplaces. This program modernizes curbside collection in Lower Gwynedd and increases the amount of recyclable material collected.
Below is a list of acceptable SSR recyclables:
Newspaper
Magazines
Glass bottles
Glass jars
Aluminum cans
Steel cans
Plastics #1-7
Paperboard
Cardboard
Junk Mail
Paper
Recycling in Lower Gwynedd Township is required for all residential properties, commercial entities, and hospitality establishments (including restaurants and taverns). The LGT ordinance pertaining to recycling can be found here. Community events attended by 200 people or more are required to provide recycling containers.
Curbside Leaf Collection opportunities are provided to all residents through the single-hauler trash collection contract. Under the contract the hauler is required to schedule eight pick-ups throughout the year. Six collections are scheduled in the Fall and two are scheduled in the Spring. The current dates are listed above. All leaf and yard waste must be placed in biodegradable bags and there is a limit of eight bags per pick-up.
Electronic Devices must be recycled in Pennsylvania under Act 108. Act 108 requires that all electronic devices be recycled and not placed in the regular trash for curbside collection. Electronic Devices include desktop and laptop computers, tablets, monitors, peripheral devices, and televisions. Occasionally, Montgomery County will offer electronic devices collections. Here are other pick-up/drop-off services for televisions and other appliances:
What to do with old cell phones, laptops and other electronic devices- An article from All Connect with additional resources- Click Here to read article
Additional Drop-Off Recycling Resources
Cardboard and Paper can be recycled behind the Wissahickon School District Administrative Offices located at 601 Knight Road.
Seasonal- Christmas trees can be dropped off at Ingersoll Park following the holidays. The park is located at 905 Wister Avenue in Penllyn.
Recycling at Ambler Weavers Way Coop with TerraCycle
TerraCycle has a collection bin located on the sidewalk and in the front of the Weavers Way Coop building.  The collection bin lists items being recycled.
Some items typically non-recyclable can be recycled through TerraCycle. 
As of May, 2019, the following items are being recycled:
Tooth brushes
Empty toothpaste tubes
Shampoo and cream rinse containers
Body cream bottles
Plastic, vitamin supplemental bottles
Snack and chip bags (e.g., pretzel, granola bags)
Foil wrapped plastic bags (e.g., energy bars)
Plastic bags inside of cereal and cracker boxes
Plastic razors and packaging
***All items must be empty and cleaned prior to dropping off for recycling
***Items being recycled may change so check before dropping off
RECYCLING OF GENTLY-USED ITEMS:   
OTHER RECYCLING LINKS:
Recycling 101: How & Why You Should Recycle 

A Comprehensive Recycling Guide
BECAUSE YOU ASKED: IS RECYCLING REALLY WORTH IT?
By Recyclebank
Everyone occasionally feels weighed down by the rules of recycling, but is it worth the time and effort? Absolutely.
Dear Recyclebank: I've been a supporter of recycling for years, but the more I learn about what is and is not accepted by recycling firms, the more I feel it's a waste of time. Is it really worth it? –Keith H.
Dear Keith: Yes! It is completely worth it, but you already knew that. Recycling is a responsibility. It not only cuts back on the amount of trash that ends up at the landfill, it also saves energy and natural resources, and reduces greenhouse gas emissions. Most of the waste we trash is sent to landfills, which can contaminate groundwater and release the equivalent of nearly a quarter of the world's methane gas. Some of our trash is sent to incinerators, which produce nitrogen oxides and sulfur dioxide — the two main ingredients of smog. When we consider the beneficial environmental impacts of recycling, it's clearly worth the effort.
But it's true that as you learn more and more about recycling contamination, it can seem like it's too difficult to make it worthwhile. If you're overwhelmed with the rules of recycling, just start simple. First, identify the materials that are accepted by the recycling center you use most. If your town has a curbside recycling program, visit their website to see what they will take. These sites often have convenient recycling guides that you can print out and tape to your recycling bin for reference. If your town doesn't offer curbside recycling, call your local drop-off center to speak with a representative to see what they accept.
Generally, local recycling programs take the most common materials, like tin and aluminum cans, paper, cardboard, and glass and plastic containers. According to National Geographic, it takes 95% less energy to make a can from recycled aluminum than from virgin ore, so each can you recycle counts!